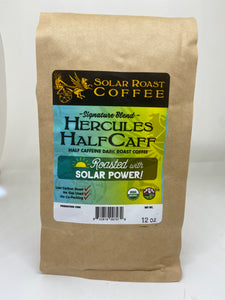 100% USDA ORGANIC🌱  We've taken our special water-processed dark roast decaf and paired it together with our dark roast Mexico in perfect harmony, bringing you a bold, rich coffee with all of the flavor and half of the caffeine content!
• • • • • • •
Our solar roasting process makes our coffees the richest and most flavorful you will ever brew. Using solar power allows us to roast with a gentle heat resulting in a lower temperature roast; slow and low, like a good BBQ. This gives our beans a smooth taste.
Please Note: We roast as ordered. Please allow 3-5 business days for your order to be roasted and shipped. ALSO: Sorry, we do not ship to Alaska or Hawaii at this time.
 Coffee orders are sent out whole bean unless ground requested. Ground coffee orders are ground auto-drip unless otherwise noted. If another ground consistency desired, leave a comment in the instructions box at checkout.
FREE SHIPPING ON $75.00 or MORE! Calculated automatically at checkout.
**BUYING COFFEE FOR YOUR CAFE, GROCERY STORE, OR OFFICE?
Contact our wholesale office for special wholesale pricing! - 719-544-3515