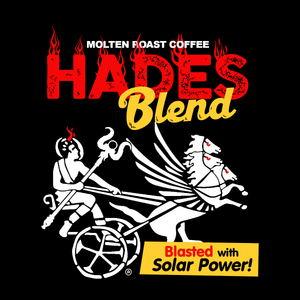 Limited Edition Hades Dark Roast t-shirt released in honor of our Hades Blend!

Hades Blend: A diabolical dark roast of barrel aged coffees.

One day, a new barista said that they had a personal request fora batch of coffee.  Their request was a coffee that was "oaky, smokey and darker than the devil's soul hisself, i tell you what"
By blending single origin Mexico organic coffee with bourbon barrel aged Guatemalan coffee we have succeed in creating this spooky seasonal classic.
Now available online thru October 31st!
The bourbon barrels are sourced from Distillery 291 in Colorado Springs and the coffee is roasted by Molten Roast Coffee -Er Solar Roast Coffee in Pueblo, Colorado.